About Us
We started this project to release the stress and anger of everyday life. It became unbearable after our son was hit and killed on his way to school in the winter of 2006. Our family has a lot of frustration over the way things were handle with our sons death and also the simple fact of losing him. This is a way for us to release our anger and have our voice heard. We encourage anyone who has something to get off their mind to say it here. Every opinion counts, no feelings are wrong, we may not all agree, but we must all live in the same world together
Our Voice Was Heard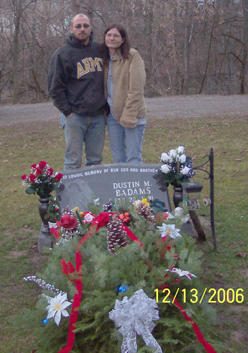 When our children started school in the fall of 2005, the school buildings were switched and no provisions were taken to ensure their safety getting to these new buildings. It was the first time our children had to walk to school and we had lived on the same block for 8 years. As a result of this and the refusal to remove snow from the sidewalks, even with a Township Ordinance, our son was hit and killed by a SUV in the middle of January 2006. We immediately blamed the snowy sidewalks and no crosswalks across the five lane highway. Our side of the highway did not have sidewalks, we placed a cross at the site of the accident were a sidewalk should have been. No one wanted to hear us, not the Superintendent of Schools, Township we live in or The County Road Commission. Our son was blamed for the accident. We continued our efforts in trying to get a safer way for the children to get to school. The Police, the Lawyers, The Insurance Company no one wanted to hear what we had to say, it was automatically his fault. All we received from them was an apology, but no effort to make a difference or accept any responsibility for what happened. There are many sides to this story this is only one. We decided to call the local newspaper in the winter of 2007 to complain again about the snowy sidewalk, the only sidewalk up the five lane highway. They placed a large article in the paper about the Townships unwillingness to cooperate. Sidewalks were placed on our side of the highway this summer, right next to the cross we have placed for our son. Our voice was heard, but the question is with winter approaching will the sidewalks get shoveled?
Feel Free to Contact us through our email boiledover@charter.net
7 Responses to "About Us"

Voice and Share Your Opinion...