Couple Boils Over About Airplane Noise
Fri, Jan 25, 2008
A Pennsylvania couple decided to write the F.A.A. a message on their rooftop because they are sick of the airplane noise. The Federal Aviation Administration changed the plane routes around the Philadelphia Airport and now the poor guy has to sleep with earplugs in. All I can say is "Way To Go!" more of us should speak out about things that bother us maybe someone would start paying attention. Read The Full Article.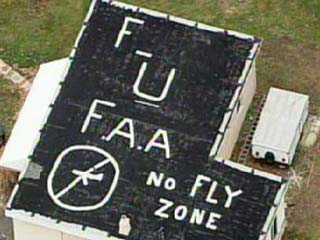 Actual Photo of their roof
Similar Posts:
4 Responses to "Couple Boils Over About Airplane Noise"

Voice and Share Your Opinion...