Freedom, What Freedom?
Tue, Apr 22, 2008
How far will we go to let the government interject into our lives? I thought America and its laws were based on FREEDOM. Daily it seems that those freedoms are violated by none other than our American Government. The foundation of our country and its laws are based on the morals and values of religion and the main base of individual freedom. I am assuming that our government officials forgot about the Revolutionary War. Since when is freedom of religion or freedom of speech only allowed when the government thinks its appropriate. Other American citizens have joined this prude way of thinking, we have become a country that is more concerned with image than individual rights.
A perfect example of these freedoms being violated is the Texas Polygamous Sect Story. Although I would not necessarily agree with the lifestyle of this religious group, they have rights too. Yes they have more than one wife and maybe have sex with underage children, but that is their religious belief. Who are we to judge what is right to believe in? We have underage pregnancy in this country on a daily basis, why is it frowned upon more when the man is 60 instead of 16. From what I have read these children are brought up in that society not knowing a lot of the "outside world". That is their culture, what they are taught, why would you rip them from everything they know and are safe with because YOU THINK something they would be better off. Well I live in this "outside world" and I find it hard to believe that these children are going to be better off after all this is over. The government went into this ranch on a "unfounded allegation" with guns blazing, ripping children from their homes and flat out lying to the adults. Should we be proud of this?
The government now has these children held in a coliseum and only the ones under four have been allowed to see their mothers. The "Judge" has ordered DNA testing on over 400 children, claiming they need it to investigate the abuse allegations. Last time I checked DNA can only be used for proof of abuse if testing in a "rape" situation. The only thing the Government will prove is who are the parents of these children and if their mother is underage. In my opinion the Government has caused more harm to these children then their parents in any situation. We now have over 400 children that will be torn from their families and placed in the "outside world" because the Government thinks they know what is best for them.
I wanted to touch a little bit on the Freedom of Speech which is another dying freedom. I could use many examples in this, but the most talked about controversy this week was Bill Maher and The Pope. If you haven't heard Bill Maher accused The Pope of being a Nazi this week on his show. Again I do not agree with what Bill Maher said, but isn't it his right to say it. Every one is blasting him for it and I can understand that, but why should he apologize and why should there be talk about taking him off the air. It was his opinion, if you are offended DON'T LISTEN!
Kudos to a little church in Jonesville, S.C. for using their freedom of speech and sticking to it.
Pastor Roger Byrd said
he just wanted to make people think when he put up a sign reading "Obama, Osama — humm, are they brothers" in front of the Jonesville Church of God on Thursday.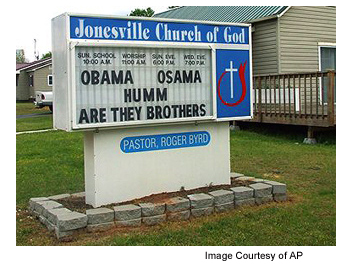 This may be extreme, but you know it has been in the minds of many American people. I am not saying its right, but it is an issue that "everyone" in the media seems to be ignoring. The congregation of Pastor Byrd's church voted unanimously Sunday to keep the sign up. Good for them to sticking to Freedom of Speech and Religion!
Similar Posts:
10 Responses to "Freedom, What Freedom?"

Voice and Share Your Opinion...