Supporting Oil Companies Huge Profits
Tue, Apr 22, 2008
As I did my daily errands today I about ran into the car in front of me while checking the gas price. We all knew it was coming the news stations have been talking that $5 a gallon mark, but come on over 25 cents in one day! Are you kidding me? Yeah I was the idiot that did not get gas yesterday because I thought I could stretch it one more day and look what it got me. Yesterday $3.43 today $3.69 and that's the cheap gas! Having a husband that commutes over a 100 miles a day makes my stomach turn every time that price rises.
So I wanted to vent about what everyone is venting about the damn price of gas. Yeah it's the same gas the stations had in the tanks yesterday, but today we are just lining the pockets of the oil companies. Even my daughter called complaining saying it isn't even worth driving 15 miles to her job to work 3 hours for minimum wage…..I have to say for once I see her point.
Then my sister sent me a ton of hilarious pictures in an email entitled gas humor. I am posting them just to give everyone a smile. Although every time you fill up remember that the oil companies made record breaking profits last quarter and we just keep getting more broke.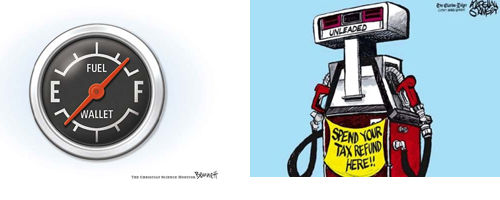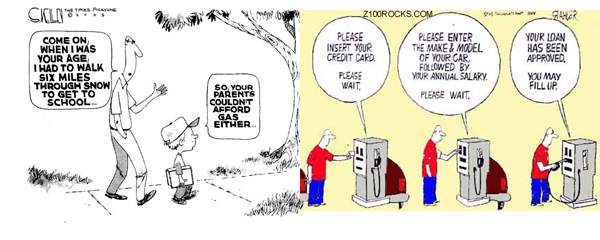 Similar Posts:
4 Responses to "Supporting Oil Companies Huge Profits"

Voice and Share Your Opinion...