Where is the loyalty
Wed, Sep 9, 2009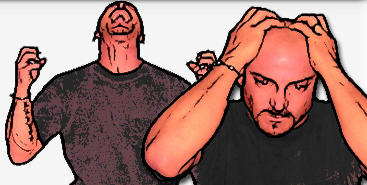 Hello everyone. I came onto Boiled Over today to express my feelings about a company's loyalty towards an employee that has worked for many years. Yes I am speaking about myself. My name is Chad I'm the screamer you see when you log into my wife's and my blog. That's me aright. I am the Ironworker you probably have read about so many times on this blog. I have worked for the same company for almost thirteen years. I have worked many hours and sweated blood for my employer. I have even bled for this company. I've had my arm literally ripped open and even cut the top of my thumb off. I never miss work and I am one of the best Ironworkers in the company. So I've been told.
There is always a slow time of year for us Ironworkers but it's never affected my job. Usually when everyone is laid off I'm still working. Well guess what, I'm laid off. Some of you might be thinking this guy has a big head. That's not the case. I have a work ethic that I stick by and that is when you are at work you give110% every day. Right now my employer has about 12 people working none of witch has been employed longer then 5 years. I say to myself where is the loyalty of an employer that I've worked for so long for.
I've tried to call him but he does not return my calls. I've called all the foremen in this company and they don't have a bad thing to say about me at all. Now at this time my wife and I are struggling to pay the bills and might lose our house. I've started to work at home like my wife does. It's a bit trying but I'm getting use to it. I have been learning a lot about working at home because I have my wife to help coach me. It's not really my passion. I would rather be up high on the iron than sitting behind a desk. I guess I've got to do what I've got to do. Plus I make much more money on the iron. I'm not sure if this will save our financial dilemma but we are trying. Stacey is much more advanced then I but she's been doing this work at home for the 13 years I've been an Ironworker.
I don't know, I guess I was feeling a bit like my avatar looks and wanted to Boil Over. Stacey has made up an e-book that might help a lot of people that are going through the same things I am. It's called The Guide to Earning a Weekly Paycheck Working at Home on the Internet. I think it is an awesome program and I am now using this while I'm working at home. Anybody that is interested in working from home should check this out.
I'm still stuck on the whole loyalty issue but I'm getting over it. I'm also making money at home and hopefully I'll make enough that I won't have to work on the iron again. After all it is probably the most dangerous job in the world. Feel free to comment or send this off to a friend now I must get back to work. Stacey is now my boss and she a whole lot better looking than my old boss lol.
Similar Posts:
2 Responses to "Where is the loyalty"

Voice and Share Your Opinion...