Why?!
Fri, Feb 22, 2008
I was going to stay away from this one today, but I just couldn't help it. Today our son would have been 17, I was doing ok up until a few minutes ago. This morning I was able to get the boys ready for school and bake the cupcakes for tonight. Keeping busy doing my usual blog surfing and news reading when the monster called ANGER hit me.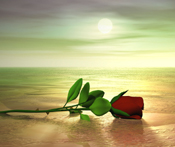 In the news story after story of children being neglected or abused. The mother in Ocala that is so popular today, yeah her kids are brats, but their still YOUR kids! You don't just walk away from them you must cherish every single moment you have with them. Guidance, Morals, and Discipline is a much better solution than abandonment. The article that really ticked me off was about a five month old baby that was left strapped in a car seat for 8 DAYS! The baby died of starvation weighing only 10 pounds. In both these cases the parents were arrested for neglect.
Why does life work like this? I know it is a question that will never be answered, but it just seems so wrong that parents like that even have kids. If there is some "higher" power up there in the big blue sky, why would he allow bad parents to have kids while taking away from the good parents?
Why do we have to spend another year celebrating a birthday at the cemetery instead of in our loving home?
It's Just Not Right!
Similar Posts:
5 Responses to "Why?!"

Voice and Share Your Opinion...