ADHD – Your Childs Life May Be in Danger
Mon, Mar 17, 2008
The ADHD medication Ritalin has claimed another young victim, Anthony Cole, 15. Our hearts go out to his family and friends in this difficult time.
This trend of young children being depressed must be stopped. The pharmaceutical companies have issued warnings that these medications can cause suicidal thoughts. HOW CAN IT STILL BE ON THE MARKET?!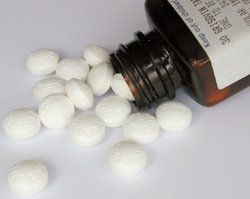 WebMD.com
FDA Advisories. The U.S. Food and Drug Administration (FDA) has issued:

An advisory on Strattera. It suggests parents and other caregivers closely watch for warning signs of suicide in children and teens taking this medicine.

An advisory on antidepressants to closely monitor adults, teens, and children taking this medicine for warning signs of suicide.

The FDA does not recommend that people stop using these medicines, but to watch for warning signs of suicide in those using them.
The number of children that are taking ADHD medications have increased dramatically in the past 15 years. In a previous post I wrote about the possible link to these medications and Adolescent Violence.
"The number of adolescents on mood altering medications is also at a staggering level, maybe the two are linked. Four years ago the doctors were prescribing anti depressant medications to children as young as 7 years old, now they say it should be used with caution in younger people. Why? Because one of the side effects is suicidal thoughts and another is violent mood swings! It gets even worse when the doctors are prescribing all these wonderful new drugs for ADHD and come to find out they also can cause depression and suicidal thoughts."
Reading this story about Anthony Cole breaks our heart and fills us with anger. We know what it is like to lose a child. Our bad experiences with ADHD medications make that anger boil. Our son just turned 16, he has ADHD. He was on medication from age 7 until he was about 12 years old. We were concerned that he was always zombie like, he never ate, he never slept, and he was not growing at a normal rate. He was very depressed, cried a lot and he was a loner. We worked with the doctors in changing the brand and dosages to try and help this behavior. Nothing worked. The final straw came when the doctor promised us this "new" type of medication Strattera was not a stimulant and would eliminate all the side effects. Our son just got worse he was so skinny and was not sleeping at all, he started being sneaky and not taking his medication. After sitting him down and talking with him we decided to take him off the medication, although the doctor did not agree he said it was ultimately our decision. It took a lot of patience and still does, we try different things, lots of hands on work. He is very bright, but it is hard to get him to do the homework. We were willing to trade the good grades and calm behavior for an energetic young man that has grown to 6'0 tall and 215 lbs. He now eats, sleeps, enjoys any project and is obviously growing at an enormous rate.
These medications may help some children without the deadly side effects, but it is really worth the risk of your child's life?
Similar Posts:
11 Responses to "ADHD – Your Childs Life May Be in Danger"

Voice and Share Your Opinion...